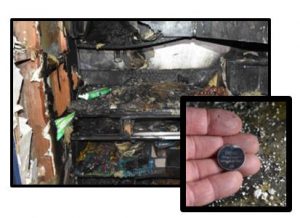 Two ASCIP members recently experienced large multimillion-dollar property loss fires that disrupted education programs.
Lithium batteries caused $1.6 M loss
Space heater caused $8.1 M loss
Members can learn from these fires to mitigate the associated hazards and avoid similar losses.
In the first incident, button lithium batteries had been purchased in bulk by a teacher for an experiment.  Lithium batteries are safe if individually wrapped and no metal to metal contact occurs.  But hundreds of batteries were purchased and apparently left on a counter.  If lithium batteries touch each other, they release heat energy causing a chain reaction.
The Lesson:  When purchasing batteries, members should buy from a reputable manufacturer or supplier; avoid batteries shipped without protective packaging (i.e., hard plastic or equal); inspect them upon receipt, and safely dispose of damaged ones; store batteries away from combustible materials; if practical, store batteries in a metal storage cabinet, and avoid bulk-storage in non-laboratory areas.
The second large property loss occurred when a space heater caught fire, causing more than $8 million in property damage.  A member's employee had inadvertently left a space heater on during the winter break.  It was their personal heater which had been brought from home.  Space heaters pose a high risk and have a much greater potential for accidental fires.  To avoid experiencing this type of loss, ASCIP recommends members don't allow space heaters.  However, if allowed, policies and safety protocols should be developed and include:
Staff must request permission and pre-register a space heater.
Check for recalls at www.saferproducts.gov or www.cpsc.gov.
Confirm it is in good working order – three prong plug with ground, cord has no exposed wires and unit is fully enclosed with no external surfaces that reach temperatures capable of starting a fire.
It must be U.L. listed and have an automatic shut off if tipped over or left on.
Follow operating and maintenance instructions, including, it must be plugged directly into the wall outlet ensuring plug fits tightly into the wall socket.
Keep combustible materials at least three feet from all sides of the heater.
Heater must be turned off when leaving the room, and unplugged at end of day.
Members can reach out to ASCIP for assistance in developing protocols to prevent losses.  We want to help you protect facilities and keep education safe.