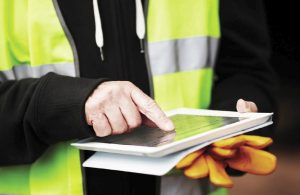 Attempting to comply with hazard communication requirements, including chemical inventory, employee training, along with obtaining and ensuring employee-access to safety data sheets (SDSs) is a daunting task, so when ASCIP reached out to Debbie Valentine, District Manager of Environmental Health & Safety for North Orange County Community College District, to pilot an online resource designed to simplify the process, she welcomed the opportunity. Initially, the tool seemed overwhelming because of its many features, but now Debbie says "I love it!  It frees up my time to do other things.  If there is a spill in chemistry, I can get quick access to the SDS and so can the site where the spill occurred."  The chemical information can also be sent directly to a doctor if needed.  Debbie shares that "once I began really using MSDSonline, I discovered how valuable it is".
She states she can easily track chemicals in each department separately, and the tool allows subsets within the department, so she can even track chemicals by classroom.  All employees can have access, so instructors use MSDSonline to educate students on safe handling of chemicals as well.  Debbie shares that it was easy to train staff on using the system, plus she has the ability to download all of the District's SDSs onto a flash drive to include as part of their Business Plan to help keep first responders safe if responding to an emergency at one of their sites.
The tool allows the user to print secondary labels and reports, flag any prohibited chemicals, inventory chemicals by location, and more.  MSDSonline is also accessible from mobile devices making it easy for staff to access SDS information in emergencies.  ASCIP can provide members using MSDSonline with custom posters and fliers for members' sites to assure that after-hours staff have easy access to an SDS when needed.
Dan Snyder, Hazardous Material Foreman for the Alhambra Unified School District (AUSD) uses MSDSonline to manage his District's maintenance and operations chemicals.  The resource allows multiple users and is easy to use, plus it provides quick access to the SDS when needed.  Rolando Cardenas, Director of Risk Management for AUSD, says there are a number of features his District is not using yet, but Dan and Rolando have reached out to ASCIP requesting more training and to help them expand the use of MSDSonline to the classroom to help AUSD improve classroom safety.
If your District is struggling with Safety Data Sheet compliance, ensuring staff have access to the SDS when needed, or making sure you have the most current SDS for your chemicals, then consider using MSDSonline.  It is available to ASCIP members at no cost.  Your District may have signed up for MSDSonline, but is not fully using it. Simply contact your ASCIP Risk Services Consultant today to learn more about this valuable resource and to schedule training.  Information about this tool can be found in the Risk Services section under Prevention Services on www.ASCIP.org.